Blog Archives
Amazing — and disgusting. 
The Fifth Column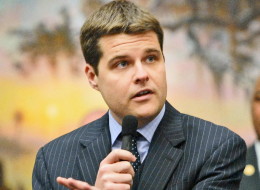 You know something's wrong when they resort to these measures…
After a Tampa Bay Times' review of 200 cases that involved the controversial "Stand Your Ground" law found an "uneven application" and "shocking outcomes," one Florida lawmaker is seeking to impede the media's ability to scrutinize the law.
Earlier this month, state Rep. Matt Gaetz(R-Fort Walton Beach) filed an amendment that would "severely limit access to court records in the self-defense cases," the Times' Michael van Sickler reports.
The amendment would allow those found innocent in a Stand Your Ground case to"apply for a certificate of eligibility to expunge the associated criminal history record."
Gaetz said his amendment was unrelated to the Times' Stand Your Ground investigation, the Associated Press reports. "The point is to ensure that someone who appropriately uses a Stand Your Ground defense doesn't have their life ruined by the use…
View original post 659 more words
Most recently, Robert Zimmerman Jr., older brother of George Zimmerman, went on a media tangent.  He focus was to speak about race and GZ's case.  He went beyond that when Tweeting a threat to Attorney Jackson that his life's goal was to have her disbarred.   Mark O'Mara, defense attorney for George Zimmerman, then posted on the legal defense site his disagreement with Junior's statements and activities.
Junior has now responded.  He makes no apologies for his threats, neither causing controversy by his media participation.  His response is below.
Source: http://www.scribd.com/doc/110231181/Zimmerman-JR-Regarding-media-campaign-and-Twitter